Train your staff with the simple and practical guide designed to take the fear out of home care and to help caregivers understand the disease and how to cope with the day to day issues of caring for someone with Parkinson disease. This training kit is the companion guide to The Comfort of Home® for Parkinson Disease: A Guide for Caregivers.
The complete PowerPoint presentation takes you through each chapter of The Comfort of Home Parkinson edition for an all-encompassing caregiver training program. Whether used by a novice or an experienced presenter, this kit includes the PowerPoint presentation, graphics, instructor's notes, and handouts to ensure that the training session is a positive one for both the presenter and the audience. The 13-module kit is designed to assist even infrequent trainers in delivering a comprehensive family or para-professional training program. View complete presentation outline here. (link to outline below and open in a smaller window)
The Parkinson Edition Caregiver Training Kit Includes 1 CD containing the following: 43 Overhead Slides, Instructor's Notes, Copier-ready Student Handouts, Certificate of Completion.
Retail: $249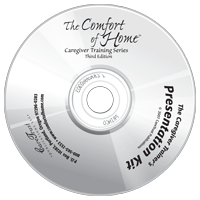 Download Demo
View Table of Contents

PRAISE   "The basic descriptions, pictures, quick bullets of information and tips are just what caregivers need to learn … The myriad of helpful topics condensed here is just what caregivers I work with have requested and will benefit from. I highly recommend this resource to all caregivers of those with Parkinson's disease." —Gwyn M. Vernon, MSN, CRNP, Neurology Nurse Practitioner and Faculty Member, University of Pennsylvania, Graduate School of Nursing